Responsive. Receptive. Reliable.
Serving Clients in North Jersey & Throughout Our State
REACH OUT TO US
Premises Liability Attorney in West Orange, New Jersey
Looking for A Premises Liability Lawyer Near Essex County, NJ?
Premises Liability refers to a particular area of personal injury law. It involves injuries that occur as a result of property owner negligence. Those who own property have a responsibility to ensure that conditions are safe for guests. If you were injured on someone else's property due to their negligence and failure to reasonably address safety hazards, you may be entitled to financial compensation. Attorney Mitchell Friedman has practiced personal injury law for over 32 years, representing local victims in premises liability claims involving slip and fall accidents and other property-related injuries. If you need a premises liability lawyer in the Essex County, NJ area, contact Attorney Friedman now.
Get in touch with our office today to assess your situation with an experienced attorney. Mitchell Friedman offers his professional guidance and representation to ensure that all who are unfairly injured have an opportunity to reclaim what they deserve. Call (973) 325-0243 or fill out our online contact form today.
Understanding Premises Liability Law
To win a premises liability claim, the victim has to prove that the property owner was negligent and that their negligence directly caused the injury. "Negligence" means that the property owner failed to maintain the property reasonably. Getting injured on someone else's property does not automatically constitute a premises liability claim. Even if the injury was caused by hazardous conditions on the property, it necessary to prove that the property owner knew about the hazard, or should have reasonably known about it, and failed to address it properly.
An experienced personal injury lawyer like Mitchell Friedman can assess your situation to determine whether or not you have a viable premises liability case. If so, he will use all resources and evidence to build a strong argument and represent you aggressively in court.
Call Today to File a Premises Liability Claim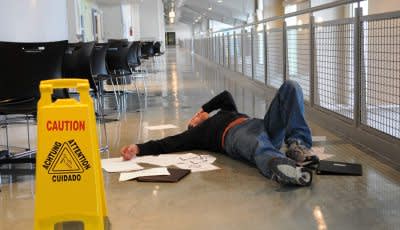 Attorney Friedman will fight tirelessly to help you claim:
Past, current, and future medical expenses including physical therapy treatments

Lost wages from time spent away from work during recovery

Lost earning potential if the injury rendered you unable to continue your career

Compensation for your physical pain and emotional suffering
You shouldn't have to pay for someone else's negligence, especially when you've already suffered the pain of a preventable injury. Get in touch with our office today to find out what you should do to get the compensation you deserve.
Your Search for Local Slip and Fall Attorneys Is Over
Call or fill out our online contact form now and we'll reach out to you as soon as possible. We're looking forward to meeting you and helping you pursue your injury claim.