Responsive. Receptive. Reliable.
Serving Clients in North Jersey & Throughout Our State
REACH OUT TO US
Common Mistakes to Avoid After a Car Accident
April 10, 2023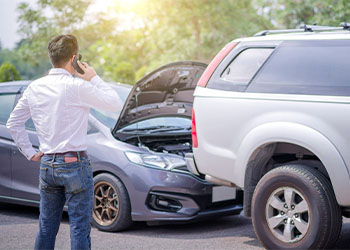 According to Insurify, 8.8 percent of drivers report an accident to their insurance company each year. Fortunately, New Jersey didn't make the list of "10 States with the Most Car Accidents" for 2022, which means the Garden State ranks around the nationwide average. Still, that doesn't mean there weren't many injuries and, worse, fatalities. In fact, separate reports rank 2022 as the deadliest auto accident fatality year for New Jersey in the past 15 years.
New Jersey is a no-fault auto insurance state, but depending on whether you purchase a "basic" or a "standard" policy or if you opt for the "unlimited right to sue" provision, recovering for injuries and property damage can take different turns. But, everything starts with reporting the crash to your own insurance company, and this can cause a lot of confusion and frustration along the way.
If you or a loved one has been injured in a car crash in or around West Orange, New Jersey, contact the Law Offices of Mitchell R. Friedman, P.C. for help in recovering the just compensation you deserve. Our legal team also serves accident victims in East Orange, Newark, Jersey City, and the rest of Hudson County, so if you're in the area, schedule a meeting with Attorney Friedman.
Common Mistakes to Avoid After a Car Accident
Some drivers may feel that the PIP—personal injury protection—coverage in their insurance policy means all they have to do is report the claim and then everything will be taken care of. Or, some may even feel that what happened in the accident wasn't worth reporting—they feel it was just a minor fender-bender, and no one was injured, so what's the point?
Either approach can present serious problems. Even though New Jersey is a no-fault auto insurance state, that doesn't mean you can just call your provider, say you've been in an accident, and everything will take care of itself. Insurers are in the business of making money, so you will have to deal with a claims adjuster whose job it is to hold costs down. To do this, they will challenge everything you say. Therefore, it's crucial you avoid common mistakes:
Not Calling the Police
Having the police come and investigate gives you another resource to back up your insurance claim. Once they file their report, you can obtain a copy, which can be used not only in your insurance claim but also if you need to file a personal injury lawsuit. Filing a lawsuit is possible in no-fault New Jersey if you chose the "unlimited right to sue" option or if your injuries are serious enough.
Not Seeking Medical Help
In the moments right after your accident, you may not feel any pain or symptoms. An adrenaline rush can mask what's really going on, and symptoms may not appear for hours, days, or even a week or so later. You need to get an immediate medical evaluation. This is also essential for your insurance claim or lawsuit. It's also important that you get the treatment you need for your own physical and emotional well-being.
Admitting Guilt
When dealing with your insurance claims adjusters, you'll be pressed to discuss your part in the accident. Even if you feel that something you did may have contributed to the accident, don't reveal it to the claims adjuster. Your policy may be no-fault, but that doesn't mean they can't use what you say—or admit—to lower their settlement offer. Your best bet is to secure the services of an experienced car accident attorney to handle everything for you.
Waiting Too Long to File a Claim or Lawsuit
Under New Jersey law, you have two years to file a personal injury lawsuit, but insurance companies have clauses in their policies requiring timely reporting of accidents. This generally means a matter of days, not weeks. If you're too late in filing your claim, the insurer can challenge or even dismiss it.
Not Gathering Evidence at the Scene
You may think that all you have to do is get the other driver's insurance and contact information, license plate number, etc., and you're good to go with your claim. While that may work sometimes in minor incidents, what you really need to do is gather as much evidence as possible to bolster your claim or your lawsuit
Use your smartphone to take pictures or videos of what happened—damages to your vehicle, any visible personal injuries, conditions of the road, roadside traffic sign warnings, and everything pertinent. If there are witnesses, get their statements and contact information. When you have the time, write down or record everything that happened to the best of your memory.
Accepting the First Offer From the Insurance Company
Insurers are for-profit businesses. If you negotiate with them on your own, they will invariably try to lowball your settlement by minimizing or rejecting some aspects of your claim.
Not Hiring an Experienced Attorney
Your best option following an accident is to contact and secure the services of an experienced car accident and personal injury attorney. While you recover from the experience and heal from any injuries you suffered, your attorney can handle the claims adjuster and fight for the just compensation due you. Or, if warranted, they can help you file a personal injury lawsuit.
Rely on Knowledgeable Legal Assistance
If you or a loved one has been injured in an auto accident in or around West Orange, New Jersey, contact the legal team at the Law Offices of Mitchell R. Friedman, P.C.
Attorney Mitchell R. Friedman has aggressively represented car accident and personal injury victims for more than two decades in seeking the compensation they deserve. Reach out immediately when you or a loved one is injured by someone else's negligence.