Responsive. Receptive. Reliable.
Serving Clients in North Jersey & Throughout Our State
REACH OUT TO US
Who to Sue After a Semi-Truck Accident
Dec. 29, 2022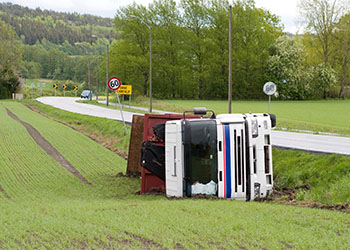 According to the National High Traffic Safety Administration (NHTSA), a semi-truck, or large truck, is defined as a vehicle with a gross weight of 10,000 pounds or more, in other words, five tons.
Some of these trucks can reach 80,000 pounds when fully loaded with cargo. If a passenger vehicle weighing 5,000 pounds – which is at the high end – is involved in a crash with a large truck, the results can be devastating in terms of injuries and fatalities.
Even in 2020, the year of the pandemic when business stalled across the nation due to lockdowns and other measures to halt the spread of the virus, there were 4,588 crashes involving large trucks and buses, resulting in 5,125 fatalities, according to Federal Motor Carrier Safety Administration (FMCSA).
If you or a loved one has been injured in a crash with a large truck, or worse, lost a loved one in such an accident, and you're unsure how to recover for your medical expenses and losses, contact the personal injury attorney at the Law Offices of Mitchell R. Friedman, P.C. for help. Attorney Friedman has long been helping accident victims exercise their rights under the law and hold the responsible party accountable.
The Law Offices of Mitchell R. Friedman, P.C. serve clients in West Orange, New Jersey, as well as in East Jersey, Newark, Jersey City, and the rest of Hudson County.
Recovering Compensation for Your Injuries
When you're struck by a large truck – call it a Big Rig, Semi, or Tractor-Trailer – and you need to recover for your medical expenses resulting from the collision, a lot depends on the type of auto insurance coverage you have. New Jersey is a "choice" no-fault state, meaning you can choose no-fault or at-fault coverage.
Under no-fault coverage, you will be required to turn to your insurance policy's Personal Injury Protection (PIP) provision to recover for your medical expenses. You can only sue for your injuries when they involve a displaced fracture, loss of a limb, permanent disfigurement, loss of a fetus, permanent injury, or death. If you choose to purchase at-fault coverage, you are free to make a claim against the other driver's insurance or even file a lawsuit.
Who Is Actually Liable?
The main factor in filing a personal injury lawsuit is determining whom to sue. You would think the driver is naturally at fault, and many times they are. They may be distracted and fail to see you or make a maneuver that is not advisable because of distractions.
According to FMCSA, driver distraction is a cause of 28 percent of truck accidents. The major factor, at 38 percent, is what FMCSA terms "decision." This means that the driver deliberately chooses to speed, follow other vehicles too closely, or not pay attention to other vehicles.
However, there are other parties who can be equally or mostly responsible under the legal principle of vicarious liability. For instance, truck companies will sometimes remove or depower the front brakes of a truck to reduce tire wear and brake costs, or maintenance people assigned to keeping the truck in a safe operating condition simply don't do their job.
Those who load the cargo may also be responsible if they don't load properly. An unbalanced load can cause the truck to be difficult to maneuver since its center of gravity is off. In addition, if the cargo is not secured properly, it can dislodge and cause accidents if the driver has to stop quickly or make a turn to avoid an obstacle in the road.
The trucking company can also be liable if they push their drivers to abuse the Department of Transportation (DOT) rules regarding hours of service. Too much time behind the wheel and not enough rest can be a deadly combination for a truck driver. The parent company may also have failed to provide proper training and rushed their drivers into service before they were ready.
In other words, a collision with a large truck is different from an accident involving two passenger vehicles. In that case, one driver is usually more at fault than the other one. In a Big Rig incident, you may have more than one party at fault. If you are in a wreck with a large truck, you need to obtain the services of an experienced attorney to examine what happened from every angle and assess who's responsible. It could be more than one party.
Filing a Wrongful Death Lawsuit
If you've lost a loved one in a large truck collision, a wrongful death lawsuit is possible. The suit can be filed by the decedent's personal representative.
A personal representative is the person named in the decedent's will to administer their estate upon death. If there is no will, the probate court will name an executor of the estate, who can file the lawsuit. In either case, any award resulting from the lawsuit will be distributed to family members.
Look to Compassionate Legal Guidance
If you or a loved one is injured in an accident with a Big Rig, you definitely need to enlist the aid of an experienced personal injury/truck accident attorney to sort through the facts and help you take the appropriate legal actions.
Choosing the party or parties responsible for the collision against whom to file a claim or lawsuit is one important factor. Further, if you've lost a loved one, your attorney can help you navigate the court system to seek the justice you deserve.
Contact the Law Offices of Mitchell R. Friedman, P.C. if you're in West Orange, Orange, East Orange, Newark, Jersey City, or Hudson County, New Jersey, when tragedy strikes from an accident with a large truck.